Colloque : Power and Architecture. Residences of Monarchs and Seats of State Authorities in Europe – Forms and Functions (15th–21st Centuries)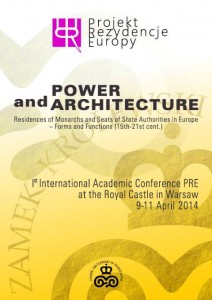 The conference's aim is to analyse from a comparative and interdisciplinary perspective the connections between different royal residences in Europe in their heyday as well as their functions and roles in the public display of power.
First, the conference is meant to confront the logic of creation and functioning of the Polish-Lithuanian centres of authority, i.e. the castles in Vilnius, Hrodna, Cracow and Warsaw, with important residences in other European countries, such as England, France, Germany, Hungary, Italy, Netherlands, Russia, Spain, Sweden.
Secondly, the conference is supposed to focus on investigating the process of their selection and spatial stabilisation, as well as the degree of concentration or dispersion of the court and their several state functions (e.g. administrative, legislative, judiciary). The The scope of the conference includes also an inquiry into trace the changing role of ancient royal residences and parliamentary seats during the 19th-21st centuries and their place in today Europe.
The conference is thought to mark an inauguration of the European Residences Project (PRE), devoted to seats of monarchs and central authorities in Europe. It will comprise biannual scientific sessions and a series of publications as well as a website.
Power and Architecture. Residences of Monarchs and Seats of State Authorities in Europe – Forms and Functions (15th – 21st cent.)
1st International Scientific Conference PRE
9th – 11th April 2014,
The Royal Castle in Warsaw, Poland
Conference organizers :
Anna Czarniecka, a.czarniecka@zamek-krolewski.pl, tel. +48 22 355 55 352,
Przemyslaw Deles, p.deles@zamek-krolewski.pl, tel. +48 22 355 55 368,
Pawel Tyszka, p.tyszka@zamek-krolewski.pl, +48 22 355 55 316/302
More information : http://www.zamek-krolewski.pl/en/the-international-scientific-conference
Conference programme : http://www.zamek-krolewski.pl/__data/assets/pdf_file/0006/56652/PROGRAMME_PRE-ENG.pdf